All dues-paying PFT members in good standing are eligible to be elected to serve on the Executive Council.  Members may nominate themselves or other members of the union for positions on the Executive Council. Please make sure your nominee is a dues-paying member in good standing of the union and willing to run. Part-time faculty who serve on the Executive Council are eligible for up to 16 hours per month for up to 4.5 months per semester of paid service according to the non-instructional extra service salary schedule as a consultant.
Members of the Executive Council have the overall responsibility of decision-making for the PFT. Elected members of the Council include the Officers (President, Vice-President, Secretary, and Treasurer), the Campus Chairs (two from each campus), and the Committee Chairs (Career and Technical Education Representative, Part-Timer Representatives (two Co-Representatives, and Diversity Representative). Each Council member is required to attend PFT Executive Council Meetings, which are generally on the first and third Thursday of each month in regular session (though extra or emergency meetings are sometimes called at anytime).
Please be certain that your nominees wish to run for these positions, verifying their willingness with signatures. Please only nominate the Campus and Committee chairs that apply to you. Please also be certain that your nominees are PFT members in good standing and qualified for the positions. Be absolutely sure to sign this nomination form, as unsigned nomination forms will be disregarded.
NOMINATIONS ARE DUE BY 12 p.m. on Tuesday, March 26, 2019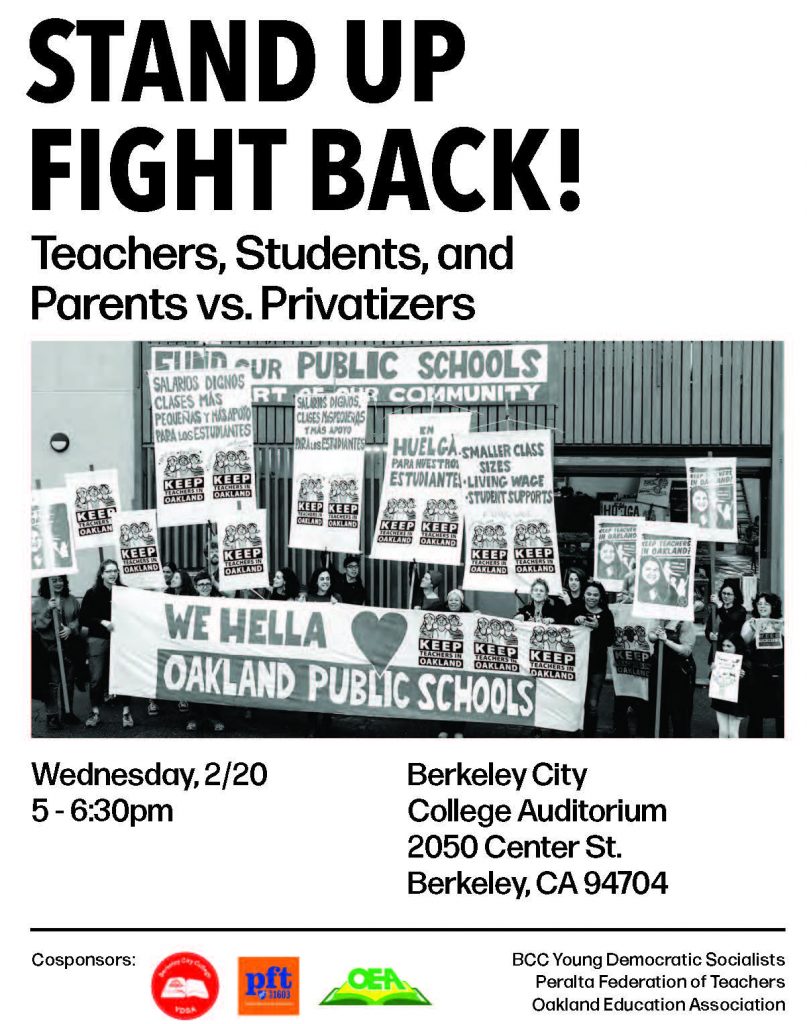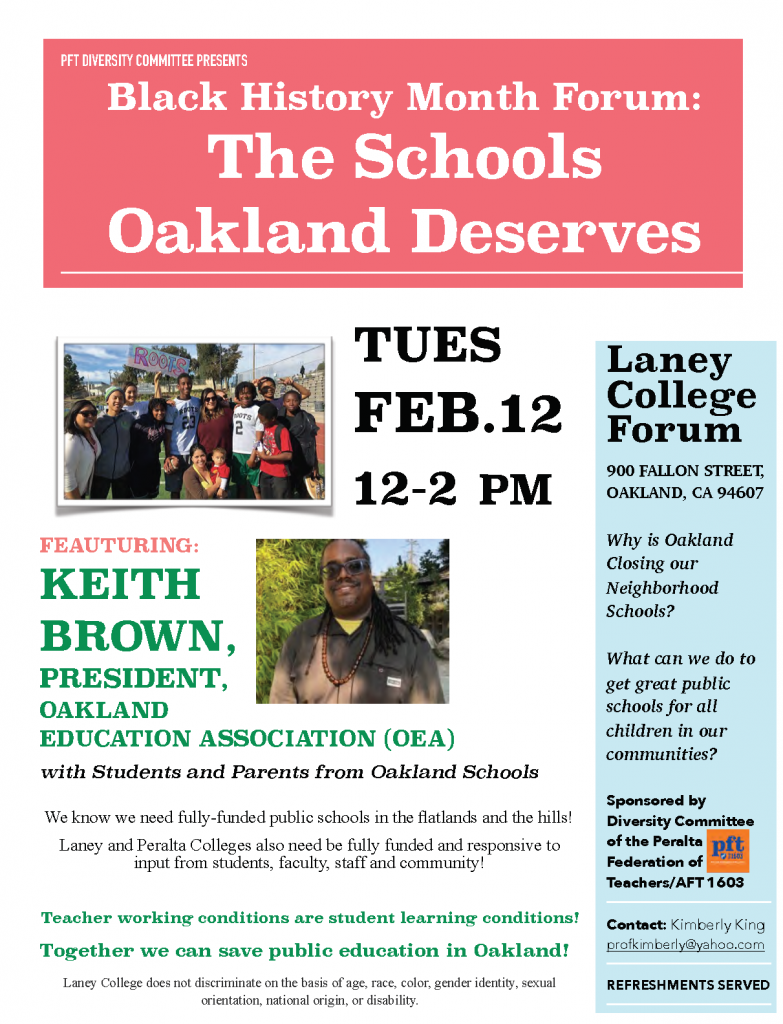 On January 19, 2019, self-identified women and people of all genders will march around the nation and around the globe for the third year in a row. PFT will form a contingent to join the Women's March Oakland and we invite you and your family and friends to be there!
The Mission of Women's March Oakland is "to harness the political power of diverse women and their communities in Oakland and the greater East Bay to create transformative social change".  At this nonpartisan, peaceful event on the Saturday before Martin Luther King, Jr. Day, we will activate our communities and publicly proclaim our commitment, in Scott King's words, to "create new homes, new communities, new cities, a new nation. Yea, a new world, which we desperately need!"
This motion of women is a motion for all of us who need a new world and is not focused on narrowly defined women's issues. Women's March Oakland is focused on 4 areas: Civil Rights, Ending Violence, Immigrant Rights and Youth.   What follows are excerpts from the National Women's March Values and Principles (https://www.womensmarch.com/principles/):
We believe that Women's Rights are Human Rights and Human Rights are Women's Rights.

We believe Gender Justice is Racial Justice is Economic Justice.

Women have the right to live full and healthy lives, free of all forms of violence against our bodies.

We believe in accountability and justice for police brutality and ending racial profiling and targeting of communities of color and Indigenous peoples.

We believe in Reproductive Freedom.

We firmly declare that LGBTQIA Rights are Human Rights and that it is our obligation to uplift, expand and protect the rights of our gay, lesbian, bi, queer, trans, two-spirit or gender non-conforming brothers, sisters and siblings.

We believe in an economy powered by transparency, accountability, security and equity.

We believe in equal pay for equal work and the right of all women to be paid equitably.

We stand for the rights, dignity, and fair treatment of all unpaid and paid caregivers.

We believe that all workers – including domestic and farm workers – must have the right to organize and fight for a living minimum wage, and that unions and other labor associations are critical to a healthy and thriving economy for all.

We believe migration is a human right and that no human being is illegal.
If you care about these issues, please join your PFT sisters, brothers and family on January 19. United actions like this make a difference and can be inspirational and fun!
Meet at PFT office 9-9:30 am for donuts, then march to Lake Merritt Amphitheater to rally at 10 am.
See the schedule on the attached flyer.
In unity,
Kimberly
Kimberly R. King, Ph.D.
PFT Diversity Chair