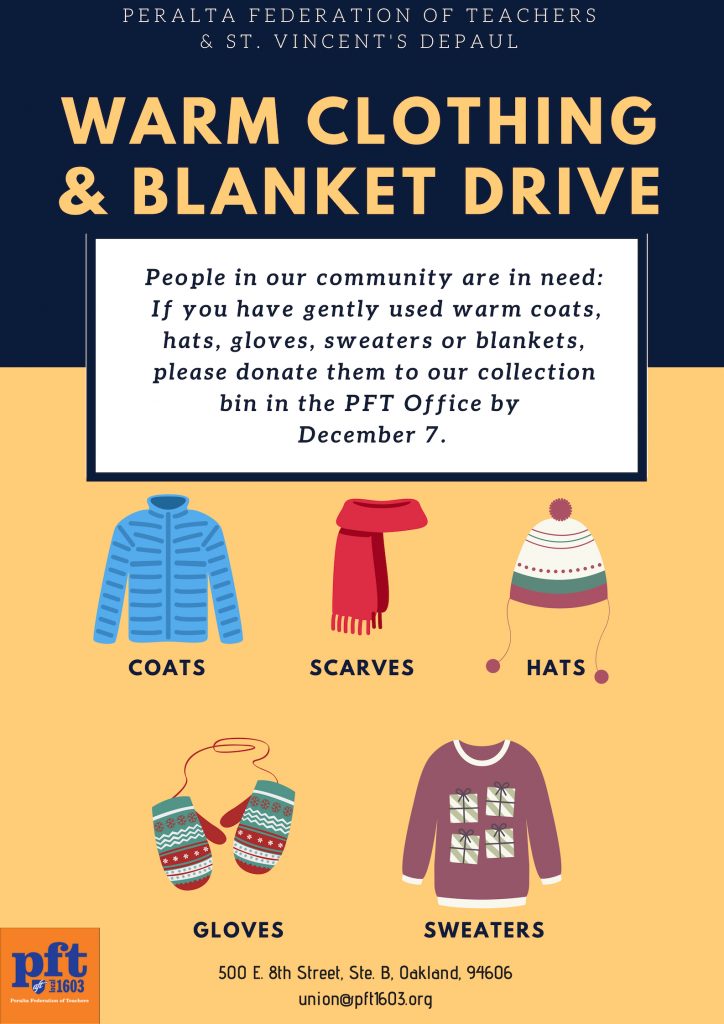 The Peralta Federation of Teachers, in partnership with St. Vincent de Paul, wants to help community members in need of warm clothing and blanket this winter season.  As the temperatures cool down, many in our community will need warm blankets, coats, sweaters, pants, hats & gloves.  Please donate any gently used items in your possession to the collection bin we have placed in the PFT Offices.  There are also Collection Bins on each of the Peralta Campuses, as well as the District Office.   We are collecting these items through the first week of classes (Deadline: December 7th).
Even one coat, sweatshirt or blanket will help to keep a community member warm this winter.  Please take a moment to donate items you are not using to our collection bin today!
There are some final opportunities to get involved in the General Election.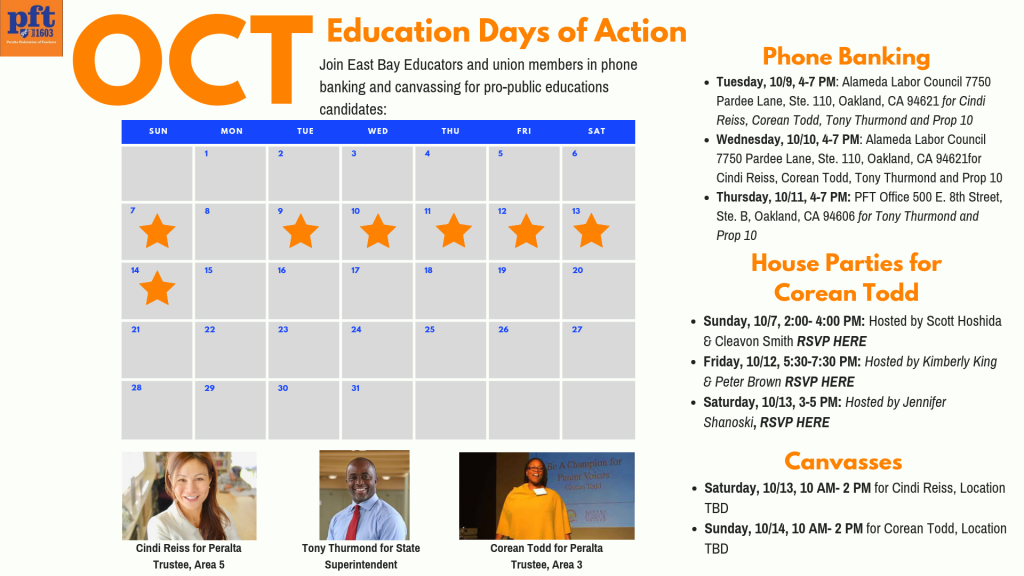 We had a great weekend of canvassing. We were able to talk to over 100 voters and had over 22 faculty volunteer over the course of 2 days. Let's keep that momentum going!
FUNDRAISER 
This weekend Scott Hoshida and Cleavon Smith are hosting a Fundraiser for Cindi Reiss on Oct 7th from 2pm-4pm. Click here to see details and RSVP via Evite.
SAVE THE DATES! 
Next week we'll be working with the Alameda Labor Council to reach out to union members across the East Bay to support pro-public education candidates. Please save the dates below:
Phone Banks: Oct 9th, 10th, and 11th from 4-7pm
Fundraisers
Sunday, 10/7, 2:00- 4:00 PM: Hosted by Scott Hoshida & Cleavon Smith RSVP HERE
Friday, 10/12, 5:30-7:30 PM: Hosted by Kimberly King & Peter Brown RSVP HERE
Saturday, 10/13, 3-5 PM: Hosted by Jennifer Shanoski, RSVP HERE
Canvasses: Oct 13th and 14th (from 10am-2pm)
Saturday, 10/13, 10-2 PM:  for Corean Todd with OEA, Horace Mann Elementary School 5222 Ygnacio Ave, Oakland, CA 94601
Sunday, 10/14, 10-2 PM:  for Cindi Reiss, PFT office 500 E 8th St, Oakland, CA 94606
These events are extremely important and could be the difference between winning the change we want to see on the Board or status quo. I urge you all to talk to fellow faculty member, friend, family or neighbor about voting for PFT endorsed candidates Cindi Reiss in Area 5 and Corean Todd in Area 3  AND joining you as a volunteer next week.
Canvassing: 
Come out sporting your beautiful PFT shirt (we'll have extras if you don't have one), canvass for a cause and meet other active faculty. Don't forget to wear comfortable shoes, check the weather and bring a friend or two to help 🙂 Here's information on where to meet: 
Canvass for Corean Todd, BOT Area 3 
Saturday, 10-2pm 
Peralta Hacienda Historical Park, 
2465 34th Ave, Oakland, CA 94601 
Canvass for Cindi Reiss, BOT Area 5
Sunday, 10-2pm 
Redwood Heights Recreation Center, 
3883 Aliso Ave, Oakland, CA 94619
Phone Bank: 
We'll be doing our first round of phone banking on Wednesday, Oct 3rd at the PFT office from 4-7pm. Come grab pizza, talk to faculty that live in Cindi and Corean's Areas and mingle with other active union members. Please email me if you will be attending or sign up by clicking here.