CALL FOR NOMINATIONS: Extended through Tuesday, September 16, 2014
For CoA Campus Co-Chair
For the term of date of election through June 30, 2015
The Peralta Federation of Teachers is announcing a special election and call for nominations for open seats on the Executive Council. The CoA campus co-chair seat is still open for nominations. The office of Secretary, representing all campuses, and BCC campus co-chair position is closed for nominations.  All PFT members in good standing are eligible to be elected to serve on the Executive Council.  Members may nominate themselves (self-nominations are encouraged) or other members of the union for positions on the Executive Council.  Please make sure your nominee is a member in good standing of the union and willing to run.
Elected members of the Executive Council have the overall responsibility of decision-making for the PFT.  The Secretary has the responsibility of overseeing meeting minutes, file maintenance, and membership. Campus Chairs are the first contact for faculty on the campus, frequently serve on hiring and screening committees, and occasionally handle grievances. Campus Chairs are also encouraged to hold Chapter Meetings for their campuses. Campus Chairs must be primarily working at the campus they represent.
Each Executive Council member is required to attend PFT Executive Council Meetings, which are generally on the first and third Thursday of each month from 3-5pm during the academic year (though extra or emergency meetings are sometimes called).
Please be certain that your nominees wish to run for the position, have the time to do so, and verify their willingness to serve. Please only nominate the Campus Chair that would specifically be representing you.  You must sign this nomination form.  Unsigned nomination forms will be disregarded.
NOMINATIONS ARE DUE BY TUESDAY, SEPTEMBER, 16, 4PM.
Nomination forms should be returned to the PFT office via US Mail at 500 East 8th St., Suite B, Oakland, CA 94606 or faxed, 510-763-1140. You may also use District mail, addressing the form to the PFT, or deliver by hand to the PFT Office or to any PFT Executive Council Member.  See the Call for Nominations Forms below for your campus.
WED, AUG 13
12-1PM
Laney College Cafeteria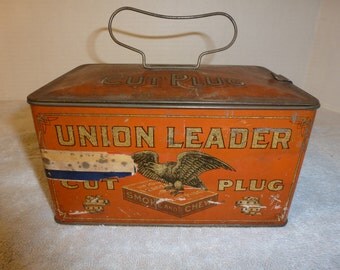 What's happening with your union?
Receive updates &  get involved!
RALLY IN SACRAMENTO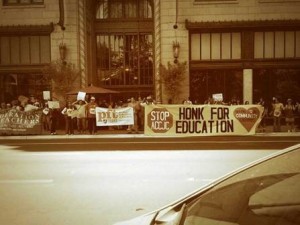 On Friday, June 6, the Accrediting Commission for Community and Junior Colleges (ACCJC) concluded a three-day meeting in Sacramento. Leaders in the fight to save City College of San Francisco lined up to speak during the 15 minutes set aside by ACCJC for public comment. As reported on the SF Chronicle website, the commission chair, Sherrill Amador, called security to stop a member of the public, Alvin Ja, from distributing a letter to commissioners after comment closed, and then tore up her copy of the handout. Hundreds of supporters, including CCSF  faculty and students, community college faculty from across the state, and community members, joined the rally outside the Citizen Hotel. PFT was on hand to support the fight.
SAVE CITY COLLEGE.  SAVE OUR STUDENTS.  SAVE PUBLIC EDUCATION!
Since most part-time faculty have several weeks "vacation" at the end of each semester, it is very important that everyone takes advantage of the unemployment benefits offered by the Employment Development Department of the State of California (EDD), which provide you a percentage of your income each week you are between assignments.  Read more by visiting Part-time Corner.
Karen Saginor, first vice president of the academic senate and a librarian at City College of San Francisco, prepared an enlightening summary of some of the more notable developments in CCSF's ongoing struggle with the Accrediting Commission for Community and Junior Colleges. Last summer, ACCJC formally moved to disaccredit the state's biggest public institution of higher learning.
Peralta's Office of Human Resources has advised PFT that pay increases included in the October 2013 Agreement on Re-openers will start to appear in faculty paychecks in November.
Full-time faculty will see a 3.65% increase starting with their November paychecks; separate retro checks reflecting the 3.65% raise from July 1-Oct. 31 will be issued in December.
All part-timers will see a 1.57% COLA in their November paychecks; separate retro checks for those remaining on Steps 1-7 will be issued in December. For folks on new Steps 8-25, regular paychecks will reflect the new placement—and separate retro checks will be issued—in January at the latest.
The reason for the lag for part-timers on the new steps is the 30-day period they will have to verify their placement on the modified pay schedule. On Nov. 12, HR will send step-placement letters via US Mail to the home addresses of part-time faculty, who will then have 30 days to appeal their placement to district HR.
The raises reflect a 4% increase in overall faculty compensation. Full-timers' 4% includes dollars that go to covering professional development and increases in dental costs; part-timers' 4% includes 1.57% across-the-board raises and increases worth significantly more for longtime faculty, some of whom will "jump up the steps" and get well above the 4% all-faculty average.
Don't miss the PFT local chapter meetings that are being held now on campuses, plus the next General Membership Meeting: Tuesday, November 19, Merritt College, Room R23, 3-5pm.
The Peralta Board of Trustees has approved the Agreement on Re-openers to the 2012-2015 Successor Agreement.
PFT and district negotiators signed off on the TA Oct. 3, and faculty voted overwhelmingly to approve the deal a week later. Salary increases—including the long-awaited 25-step salary schedule for part-time faculty and an across-the-board 3.65% raise for contract faculty—are on the way. Both adjustments will be retroactive to the start of the Fiscal Year.
Part-time faculty members will soon receive email notice from the district about their placement on the new 25-step salary schedule; if they feel they've been placed incorrectly, they'll have 30 days to make a written appeal to the VC of Human Resources.
Now it's time to celebrate the gains and continue to work on making our union even stronger!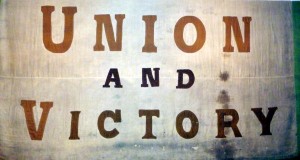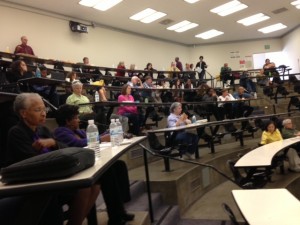 On Oct. 10, over 80 members came out and voted for a deal that includes wage increases for all faculty, 18 additional salary steps for part-time faculty, reinstatement of professional development money and sabbaticals, and more.  With over 97% yes votes, the contract reopeners for 2012-2015 have been approved, and wage increases will be retroactive to the start of the fiscal year! 
The time is now for us to celebrate our gains and keep building our collective power within the Peralta Community College District—and beyond.
To access the details on the agreement, click here
Click here, 10.3.13 TA, to review the complete document.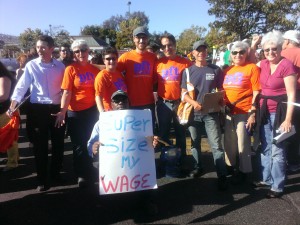 Fast food workers across the nation have been standing up to demand fair wages and to bring their salaries above the poverty lines.  On Thursday, August 29th, PFT Members, Peralta Trustee, Nicky Gonzalez Yuen, and hundreds of members from the community, inter-faith organizations, and other unions come out to rally and support their fight.