Peralta part-time faculty members who are experiencing hardship as a result of assignment reductions can apply for up to $500 in emergency assistance, which will be given on a first-come, first-served basis in accordance with the following criteria:
current PFT membership
worked within the Peralta District for at least four of the previous ten semesters
loss of 40% or higher of the faculty member's semester's baseload assignment
no full-time employment elsewhere
no retirement benefits, or retirement benefits limited to $450 per week.
FOR MORE INFORMATION AND TO DOWNLOAD AN APPLICATION CLICK HERE. 

NOMINATIONS FOR DELEGATES TO THE CFT CONVENTION ARE NOW OPEN
The 74th Annual Convention of the California Federation of Teachers, "Activate Labor for Justice" has been called to convene at the Hyatt Regency, San Francisco from March 11-13, 2016.  The Peralta Federation of Teachers can send as many as 23 delegates to this convention. The ten delegates with the highest votes, in addition to the PFT President, will be reimbursed up to $200 for documented convention-related expenses (allocations have been made for 5 full-time faculty and 5 part-time faculty to attend).
The Convention is open to all CFT members, but only elected delegates can vote. It is the Federation's highest governance body, where delegates shape union policy and positions on issues affecting all members. The Convention will also elect delegates to the AFT Convention and the California Labor Federation Convention.
All nominations must be received in the PFT office no later than 4 p.m. on Wednesday, February 3, 2016
For more information and to download a nomination form, please click here.
PFT hopes that you are enjoying an energizing break. There are a few things we would like to put on your radar:
* District Flex Day is Wednesday, January 20th. Stop by the PFT table to check your member status or update your information. Campus Flex Days are TBA.
* We are happy to announce the election of Eva Ng-Chin as Merritt Campus Co-Chair. Arja McCray has decided to resign and PFT extends thanks to Arja for her time representing Merritt Faculty this past year. This leaves an opportunity and need for a replacement campus co-chair for Merritt. Anyone interested in serving in this position should contact Kayla Lewis at union@pft1603.org
* California Federation of Teachers' annual convention will be held in San Francisco on March 11-13. Nominations will be open to all members beginning January 20th. Forms will be available in your faculty mailbox.
FREEWAY FLIERS
Documents the growth of part-time (adjunct, contingent, associate, non-tenure track) faculty in America's colleges and universities, and the circumstances under which they work and contribute to the their students, our economy, and our society. ​

Part-time faculty currently make up the majority of the faculty, instruct the majority of the courses, and the majority of the students at America's higher education institutions. 
Part-time faculty are paid significantly less than full-time (tenured, or tenure-track) faculty, generally do not have access to health insurance, do not participate in college governance, do not have access to the academic protection of tenure, and can be denied employment for any, or no, reason. 
This film is the story of the unknown outsiders of higher education, and the prospects for change.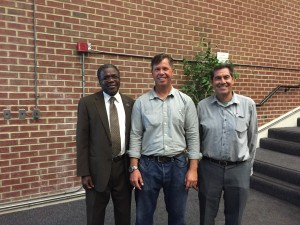 PCCD Chancellor, Jowel Laguerre, Freeway Fliers Filmaker, Bradley L. Rettele, & PFT President, Ed Jaramillo
PFT had previously opened nominations to fill a vacancy for a campus co-chair representative at Merritt College. We didn't receive any nominations before the deadline period for this position.
We are extending the deadline to November 9. PFT is encouraging any member interested in serving to submit a nomination form.