TO:                  All Dues-Paying Members of the Peralta Federation of Teachers
DATE:             March 23-25, 2018
SUBJECT:      2018 Election of Delegates to the CFT Convention
The 76th Annual Convention of the California Federation of Teachers has been called to convene at the Hilton Orange County in Costa Mesa from March 23-25, 2018.  The Peralta Federation of Teachers can send as many as 29 delegates to this convention. The ten delegates with the highest votes, in addition to the PFT President, will be reimbursed up to $600 for documented convention-related expenses and $400 for partial attendance (allocations have been made for 5 full-time faculty and 5 part-time faculty to attend).
NOMINATIONS FOR DELEGATES TO
THE CFT CONVENTION ARE NOW OPEN
Nominees and the person nominating them must be current dues-paying members of the PFT. If you're not sure you are a member, contact the PFT office (phone: 510-763-8820). Please make certain that whoever you nominate is willing and able to attend the convention, and is a PFT dues-paying member. Self-nominations are acceptable and encouraged.
All nominations must be received in the PFT office no later than
4 p.m. on Thursday, January 25, 2018.
(CLICK TO ENLARGE)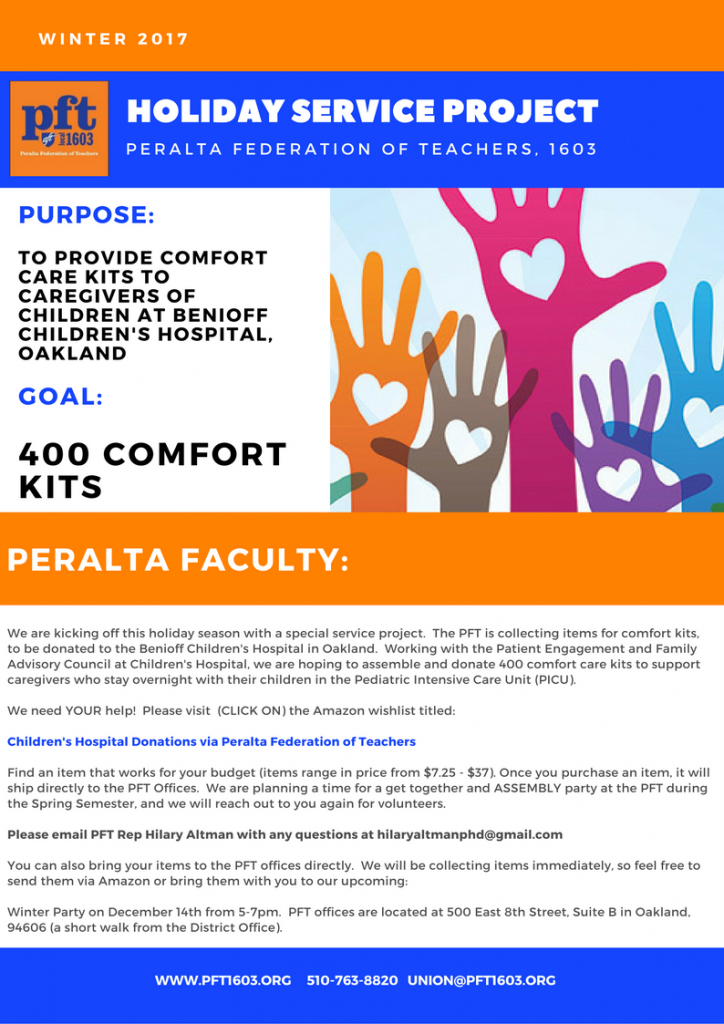 The deadline for applying for the current cycle is November 16. Please review the criteria and get your applications submitted. We have $10,000 set aside for this academic year for this fund.
Thanks,
Brad
Please join us for a series of member forums on the A's stadium:
Mon. 10/30

: Berkeley City College in room TLC-341, 

12:00- 1:30 p.m.

Tues. 10/31

: College of Alameda in room D-205, 

12:00- 1:30 p.m.

Wed. 11/1

: Laney College in room D-200, 

12:00- 1:30 p.m.

Thurs. 11/2

: Merritt College in room S-354, 

12:00- 1:30 p.m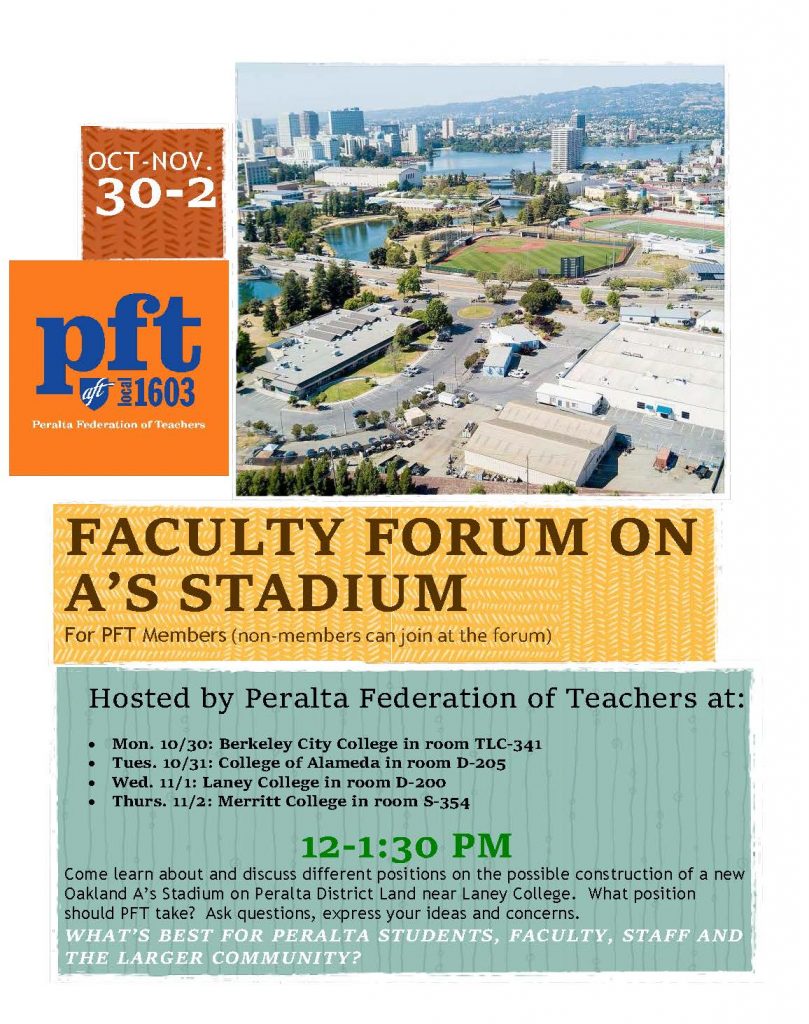 The PFT 1603 Grant Fund for Fall 2017 Fire Loss is available to provide a source of support/funding for current PFT Members who require temporary, immediate financial support due to evacuation from their homes as a result of the fires in Alameda/Napa/Santa Cruz/Sonoma/Solano Counties. 
Grants are for up to $500 and can be used to reimburse losses incurred as a result of evacuation from a home in the fire area due to the fall fire of 2017.