The Educator's Choice Online Voter Guide is an excellent resource for this election season. Simply enter your address to find your polling place and California Federation of Teachers and PFT endorsed candidates that will appear on your ballot.
Visit: http://www.cft.yourvoter.guide

YES ON 55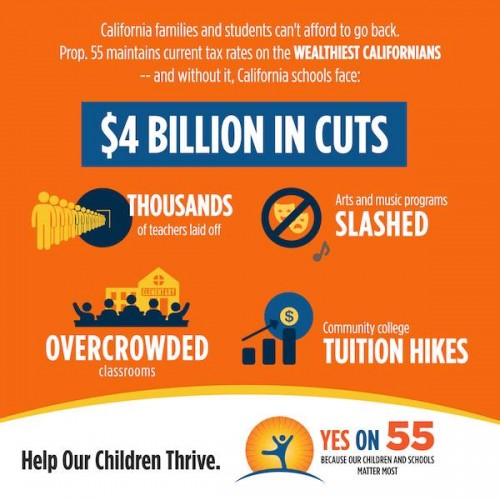 Karen Weinstein for Peralta College Trustee
Karen will champion:
Student Achievement, Success and Equity:  I'll advocate for increasing student services for our most vulnerable students, including early engagement, mentoring, tutoring, mental health and advising programs—all of which help our students reach their goals and become prepared for College and Careers.
Expanding High School and Peralta Partnerships:  I'll work to expand college options to high school students, which allow high school students to begin their college work or career development while in high school so that when they graduate they are better prepared—saving time and money on their way to a four-year degree or careers.
Safe Campus sites free from sexual assault or harassment:  I'll continue my advocacy to ensure ALL students are safe while on campus.  Sexual assault on college campuses is a growing issue, as 1 in 5 young women will be assaulted.  It is an important issue for the LGBTQ community.
Recruiting and retaining outstanding Faculty and College staff:  I am so honored to receive the endorsement of the Peralta Federation of Teachers, and will focus my efforts on retaining the teaching staff who are working so hard to prepare future generations of leaders.
Good governance is shared and transparent governance:  As a trustee, I will be a champion of community engagement, excelling in two way communication, and will work to represent all sectors. We must listen and bring to the District community concerns and ideas, while we inform the public of key issues at Peralta. Lastly, it is important, that trustees find a way to evaluate themselves and the Board's functioning.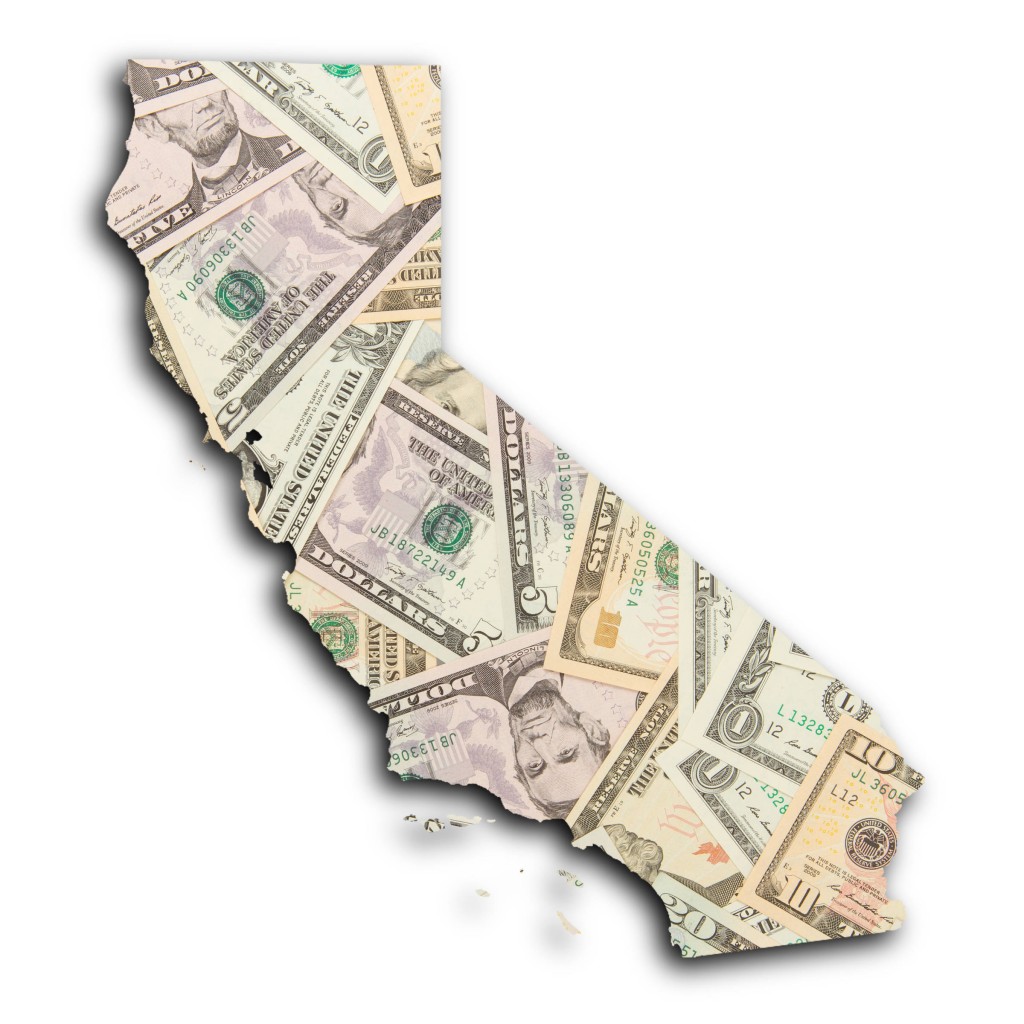 Reminder: PFT is bringing in Emily Gordon, Research Director of the California Federation of Teachers, for a faculty workshop on the PCCD budget. The two-hour session is set for Th., Sep. 22, at 3 p.m. in the PFT offices (500 E. Eighth St., Oakland, across the intersection from district A&R). Emily will offer an accessible overview of district finances, and give faculty a clear picture of Peralta's spending priorities—a useful snapshot to consult as contract talks continue.
And a review of district spending priorities couldn't be timelier: PFT has been decrying deteriorating working conditions at the colleges—unmaintained classrooms, dirty bathrooms, overcrowded faculty offices, etc.—and both the union and DAS have voiced concerns over the district's ongoing expansion of the administration.
Email union@pft1603.org if you plan to attend the 9/22 session so we have plenty of handouts and snacks.
_____________________________________________________________
CoA Faculty: We will hold our first chapter meeting of the academic year on Tues., Sep. 13, from 11:30-1 p.m. in room D-208. Please RSVP for lunch to union@pft1603.org.
_____________________________________________________________
Additionally: Now that AB 1690, CFT sponsored legislation on part-time faculty job security, has passed out of the legislature, it's imperative we get your support urging the Governor to sign this historic piece of legislation.
Attached please find a template letter for you to download and modify as you see fit.  Please do not mail your letter directly to the Governor.  Please send them to the CFT Sacramento office.  They will have a much greater impact if we can deliver them en masse when advocates meet next with the Governor's staff.
Please send your signed letters to:
CFT c/o Debra Burruss
1107 Ninth Street, Suite 460
Sacramento, CA  95814
Please send these letters in ASAP.  The Governor is likely to either sign or veto this legislation in the next few weeks.  (P.S. emails to the Governor will have zero impact.)
 Let PFT know you sent a letter!
Ed Jaramillo, President
Peralta Federation of Teachers, AFT Local 1603
Peralta part-time faculty members who are experiencing hardship as a result of assignment reductions can apply for up to $500 in emergency assistance, which will be given on a first-come, first-served basis in accordance with the following criteria:
current PFT membership
worked within the Peralta District for at least four of the previous ten semesters
loss of 40% or higher of the faculty member's semester's baseload assignment
no full-time employment elsewhere
no retirement benefits, or retirement benefits limited to $450 per week.
FOR MORE INFORMATION AND TO DOWNLOAD AN APPLICATION CLICK HERE. 

NOMINATIONS FOR DELEGATES TO THE CFT CONVENTION ARE NOW OPEN
The 74th Annual Convention of the California Federation of Teachers, "Activate Labor for Justice" has been called to convene at the Hyatt Regency, San Francisco from March 11-13, 2016.  The Peralta Federation of Teachers can send as many as 23 delegates to this convention. The ten delegates with the highest votes, in addition to the PFT President, will be reimbursed up to $200 for documented convention-related expenses (allocations have been made for 5 full-time faculty and 5 part-time faculty to attend).
The Convention is open to all CFT members, but only elected delegates can vote. It is the Federation's highest governance body, where delegates shape union policy and positions on issues affecting all members. The Convention will also elect delegates to the AFT Convention and the California Labor Federation Convention.
All nominations must be received in the PFT office no later than 4 p.m. on Wednesday, February 3, 2016
For more information and to download a nomination form, please click here.
PFT hopes that you are enjoying an energizing break. There are a few things we would like to put on your radar:
* District Flex Day is Wednesday, January 20th. Stop by the PFT table to check your member status or update your information. Campus Flex Days are TBA.
* We are happy to announce the election of Eva Ng-Chin as Merritt Campus Co-Chair. Arja McCray has decided to resign and PFT extends thanks to Arja for her time representing Merritt Faculty this past year. This leaves an opportunity and need for a replacement campus co-chair for Merritt. Anyone interested in serving in this position should contact Kayla Lewis at union@pft1603.org
* California Federation of Teachers' annual convention will be held in San Francisco on March 11-13. Nominations will be open to all members beginning January 20th. Forms will be available in your faculty mailbox.
FREEWAY FLIERS
Documents the growth of part-time (adjunct, contingent, associate, non-tenure track) faculty in America's colleges and universities, and the circumstances under which they work and contribute to the their students, our economy, and our society. ​

Part-time faculty currently make up the majority of the faculty, instruct the majority of the courses, and the majority of the students at America's higher education institutions. 
Part-time faculty are paid significantly less than full-time (tenured, or tenure-track) faculty, generally do not have access to health insurance, do not participate in college governance, do not have access to the academic protection of tenure, and can be denied employment for any, or no, reason. 
This film is the story of the unknown outsiders of higher education, and the prospects for change.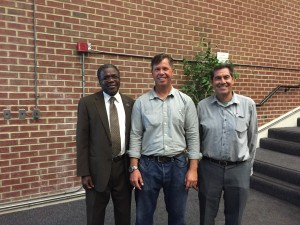 PCCD Chancellor, Jowel Laguerre, Freeway Fliers Filmaker, Bradley L. Rettele, & PFT President, Ed Jaramillo
PFT had previously opened nominations to fill a vacancy for a campus co-chair representative at Merritt College. We didn't receive any nominations before the deadline period for this position.
We are extending the deadline to November 9. PFT is encouraging any member interested in serving to submit a nomination form.