The day after our board action, come wind down over lunch in community with fellow union members on Wed Oct 23rd 12-2pm. Please join our union mixer and panel discussion with labor activists that will kick-off our Unity Campaign***. Lunch and light refreshments will be served. Pls forward to your colleagues!

WEDNESDAY, October 23rd @ 12-2 pm
Laney College – Faculty Lounge – T450
900 Fallon St., Oakland CA
***What is the Unity Campaign?
The PFT Unity Campaign focuses on the shared interests and combined power that ALL FACULTY gain when we join together to fight for quality education for our students and fair working conditions for ourselves. The goal of the campaign is to unite faculty and increase faculty participation in PFT contract actions and other PFT activities. Too often, part-time and full-time faculty are pitted against each other, when in fact, WE ARE STRONGER WHEN UNITED!
The UNITY Campaign raises up the concerns of PT faculty about their poor working conditions and compensation and points out how FT faculty and students are also impacted by these conditions. An emphasis on the interconnection of full-time tenure line faculty and part-time contingent faculty interests will support and strengthen the PFT. We will hold dialogues, teach-ins, unity hall walks, and mixers to build understanding and strength in our unity.
POINTS OF UNITY
ALL FACULTY – FT, PT, Counselors, Librarians, Nurses, and Coaches – are essential to the student success at the Peralta Colleges.
ALL FACULTY deserve fair compensation for their work
ALL FACULTY deserve fair and safe working conditions, including access to educational resources (e.g., office space, technology, facilities) and professional development to provide quality instruction and other educational services to students.
ALL FACULTY working together is the best way to get fair compensation and working conditions AND to provide high quality education to students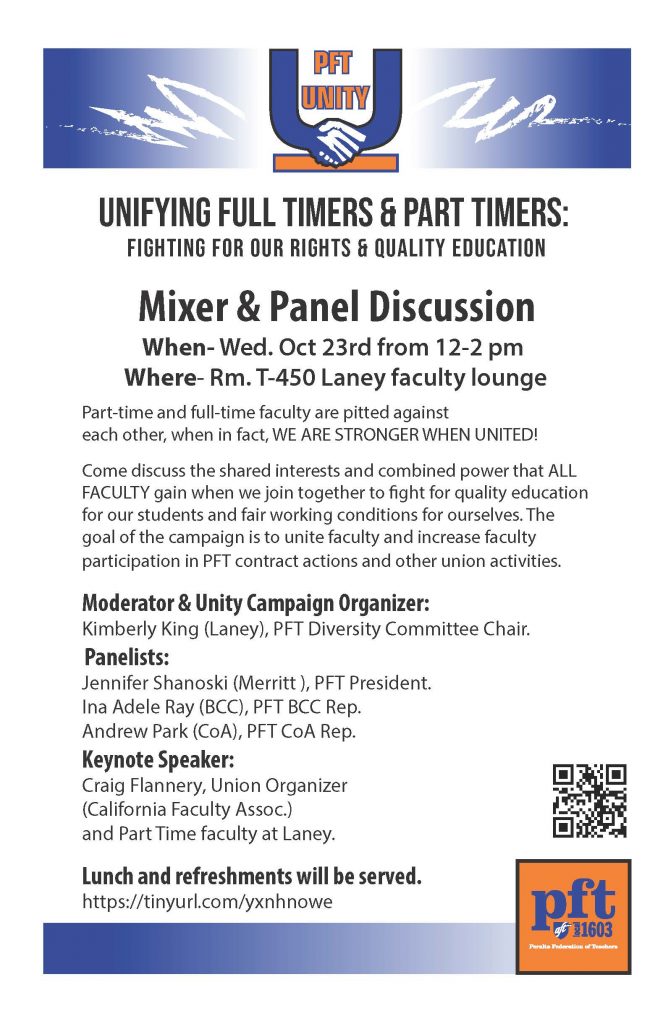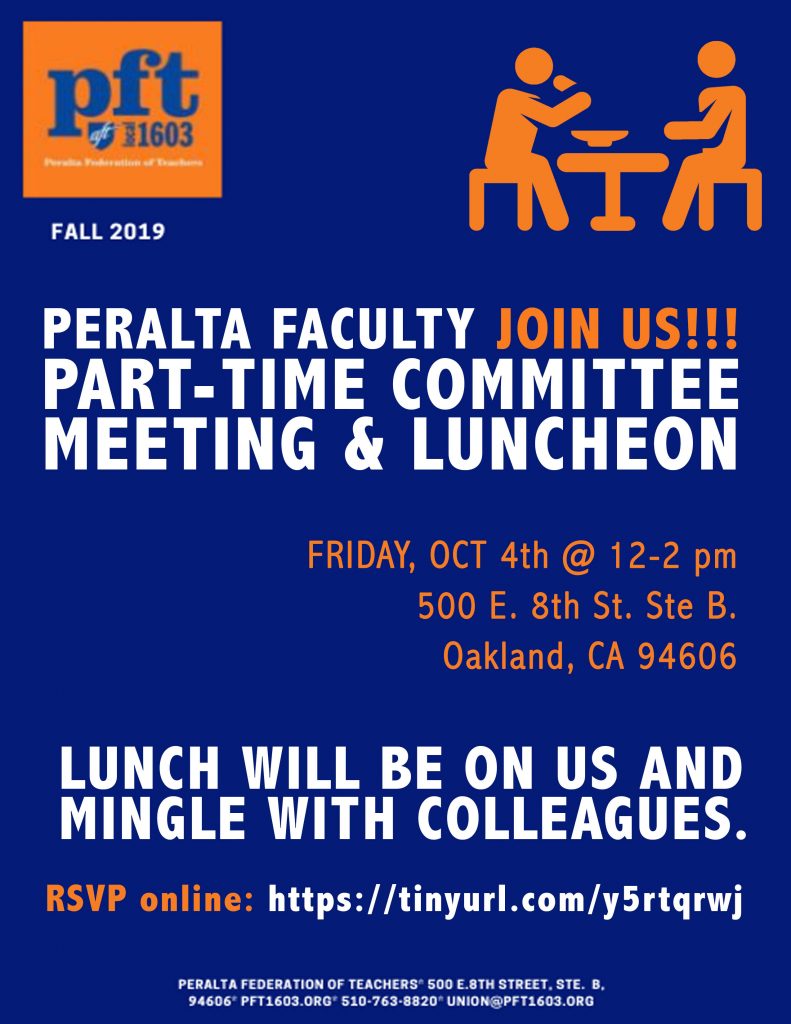 Join remotely:
PFT Staff is inviting you to a scheduled Zoom meeting.
Topic: Part-time committee meeting
Time: Oct 4, 2019 12:00 PM Pacific Time (US and Canada)
Join from PC, Mac, Linux, iOS or Android: https://cccconfer.zoom.us/j/407277252
Or iPhone one-tap (US Toll): +16699006833,407277252# or +16468769923,407277252#
Or Telephone:
Dial:
+1 669 900 6833 (US Toll)
+1 646 876 9923 (US Toll)
Meeting ID: 407 277 252
International numbers available: https://zoom.us/u/adFZXL3B9K
Or Skype for Business (Lync):
SIP:407277252@lync.zoom.us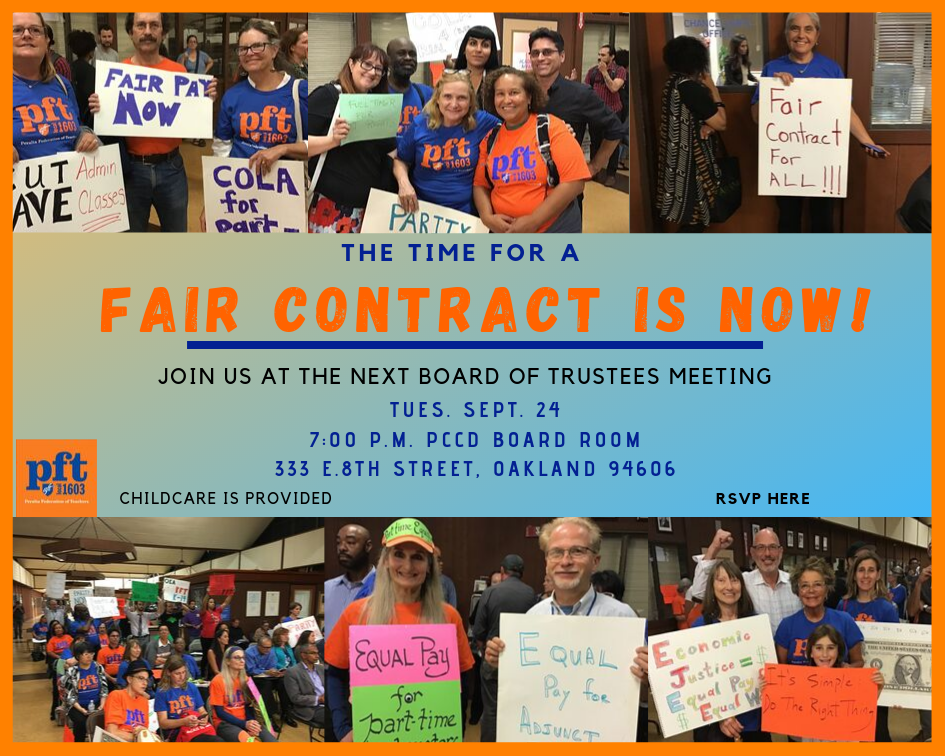 WE NEED YOU ON SEPT. 24!
Join us in demanding a FAIR CONTRACT NOW!


Tuesday, September 24, 7:00 p.m.
District Board Room: 333 E.8th Street, Oakland 94606

Contact: Jennifer Shanoski, shanoski@gmail.com

RSVP here!

Great work PFT Members! We had more than 70 faculty come to the last BoT meeting and that had a positive effect on the board who encouraged us to keep up the pressure. BUT, we need even more people to show this Tuesday to demand: Cost of living increases for 3 years (3.26% this year and state-level colas after)Part-Time Parity Respect for our work! 
Copy and paste this letter into the body of your email. Feel free to make it more personal in whatever way you see fit.

EMAIL to: flwhite@peralta.edu
CC: jbonilla@peralta.edu, kweinstein@peralta.edu, jshanoski@peralta.edu And don't forget to sign your name at the bottom! Dear Chancellor White, I am writing to request that you direct the District negotiating team to settle a new three-year agreement with the Peralta Federation of Teachers. 

In 2018-19, Peralta's full-time faculty salaries are ranked last in the state for those starting their careers and, even at the top of our salary schedules, remain in the lowest third. Meanwhile, part-timers' wages lag behind full-timers', with part-time faculty consistently paid less per hour for doing the same work as their full-time colleagues with equivalent levels of experience and education. 

And while we all understand that the District is struggling with the effects of mismanagement, we know that funding per FTES within Peralta is in the top third in the state. As you're aware, the FCMAT report confirmed what PFT has been pointing out for years: cash flow isn't the problem.

Faculty members like me are the reason that students come to Peralta, and faculty members are the reason that students stay. Keeping high-quality faculty in the District is central to our goal of recruiting and retaining students and building our communities. 

A contract that guarantees three years of COLA and part-time parity will show faculty that Peralta cares about instruction and about retaining high-quality, dedicated teachers. It will give teachers a sense of security and renewed confidence in the District in the years ahead. And it will allow faculty, staff, and administration to focus on collectively solving the many issues that we face together. 

Before your tenure as Acting Chancellor ends, we ask you to do the right thing and direct your negotiating team to sit down at its Sep. 23 negotiations meeting with PFT and settle a contract that includes part-time parity and COLAs for the 2019-20, 2020-21, and 2021-22 academic years. 

Thank you for your attention, and thank you for your care for the faculty that work so hard to serve our students. Sincerely,