Dear Peralta Community,

The Peralta Federation of teachers has voted to endorse the Bay Area Rally Against Hate and to send out the attached statement quoted below. PFT leaders, members, and friends will be meeting Sunday morning to join the rally.

New PFT t-shirts are available at the PFT offices (or let me know that you are coming and I'll bring you one)!

In solidarity,
Jennifer Shanoski
President, Peralta Federation of Teachers, AFT 1603

———————

As educators and union members, we stand for full human rights for all people, equity in the delivery of services and resources, respect for different cultures, ethnicities, spiritual traditions, genders and gender expressions, and commit to upholding these values in our classrooms, on our campuses, and in the larger community. We mourn the lives lost fighting for these values, both past and present.

The recent tragedy in Charlottesville underscores a larger trend of unapologetic white supremacy and bigotry that has escalated over the past months in the United States, and as a union representing workers charged with the responsibility of educating our community, we will not stand aside when our community is threatened. As faculty at colleges where many of our students face attacks as members of low-income communities, as people of color, women and LGBTQ folks, we can play an important role in the movement for equality and racial, economic and social justice.

The Peralta Federation of Teachers has publicly endorsed, and will participate in the Bay Area Rally Against Hate, this Sunday, Aug. 27 from 10:30am-12:30pm, in Berkeley. This event is in response to a Neo-Nazi, white supremacist march that will be occurring at the same time in a different part of the city.   The rally is sponsored by Unite for Freedom from Right Wing Violence in the Bay Area and will be peaceful, with a wide range of participants, organizations, and labor unions that have also endorsed the event, including:

The Alameda County Labor Council
AFSCME 3299 (Berkeley Unit)
SEIU 1021
UAW Local 5810
UAW 2865

If you are reading this message, we invite you to join your fellow union members in making a clear statement: that hatred and bigotry will not go unanswered. The organizers of this rally are developing a strong safety plan and trainings to ensure the security of those demonstrating against hate and PFT will be staying abreast of this and send out announcements when necessary.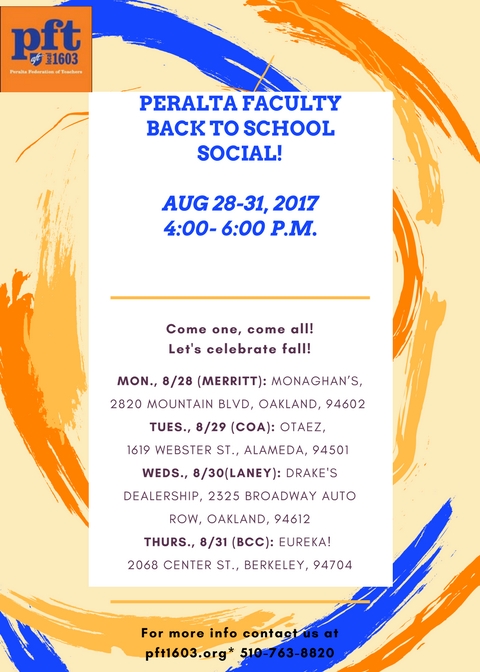 Let's start this semester on the good foot! Join us for a social with your Peralta colleagues during the week of August 28th from 4:00-6:00 p.m.
MON., 8/28 (MERRITT): MONAGHAN'S, 2820 MOUNTAIN BLVD, OAKLAND, 94602 
TUES., 8/29 (COA): OTAEZ, 1619 WEBSTER ST., ALAMEDA, 94501 
WEDS., 8/30(LANEY): DRAKE'S DEALERSHIP, 2325 BROADWAY AUTO ROW, OAKLAND, 94612
THURS., 8/31 (BCC): EUREKA! 2068 CENTER ST., BERKELEY, 94704 
Effective F17, part-time instructional faculty will be compensated for office hours at their non-instructional rate for full semester classes. This program is in effect during the regular academic year only. It excludes summer session and intersession.
Faculty must submit their "Request to Participate in Office Hour form" to their Division Dean every semester, by the end of the first week of instruction. They must also attach their syllabus.
Office Hours shall be defined as follows:
1) Face-to face classes: office hours shall be on campus (or at location where class is held) at a designated time and location.
2) Online classes: office hours shall be online at a designated time.
3) Hybrid classes: office hours may be either online at a designated time and location.
Participation in the program shall be based on the following instructional assignment formula:
INSTRUCTIONAL LOAD PAID OFFICE HOURS
0-2.99 equated hours= 0 office hours to be paid out
3-5.99 equated hours= 1 paid office hour a week
6 or more equated hours= 2 paid office hours a week
Equated hours can be figured out, as follows:
1 lab hour= .8 equated hour
1 lecture hour= 1 equated hour
---
Brotzeit Lokal, Oakland, CA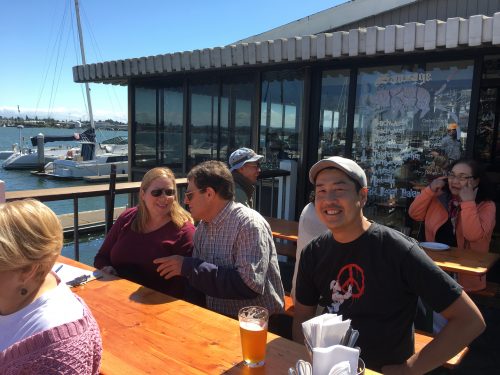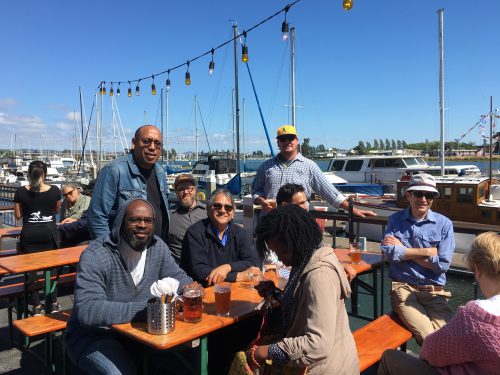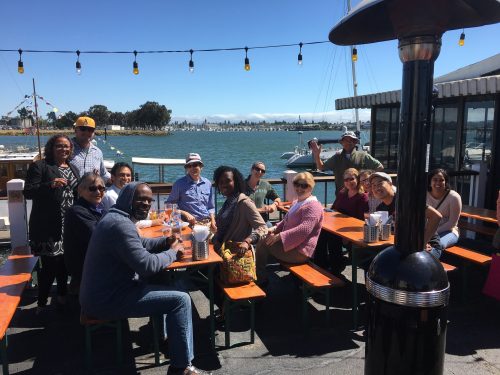 Please take a moment to read this special report, Hope in Dark Times, from the summer 2017 edition of The American Educator. Discussed are some the challenges we face as a union and how our collective activism can be a solution.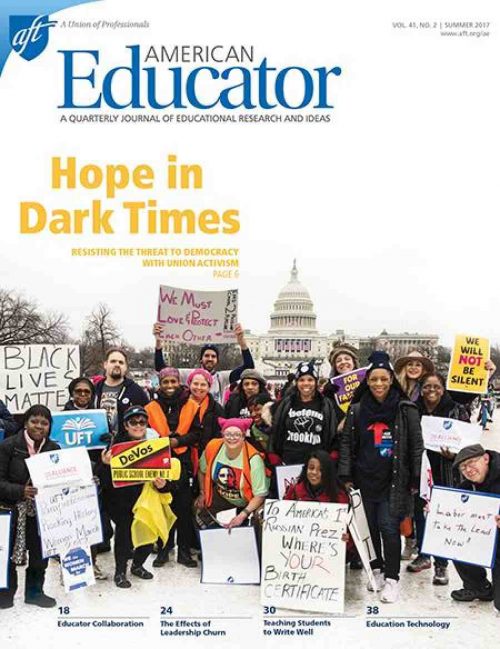 SUMMER HOURS:
MONDAY-THURSDAY
10:00 A.M.- 5:30 P.M.
CLOSED FRIDAY
Please join us for an end-of-the-semester social! We will be celebrating the service of outgoing Executive Council members and welcoming in some newly elected members. Meet us at Brotzeit Lokal at 3 p.m. on  Thursday, May 25th. We will be there until 5. Appetizers are included; no host bar.
Brotzeit Lokal- 1000 Embarcadero, Oakland 94606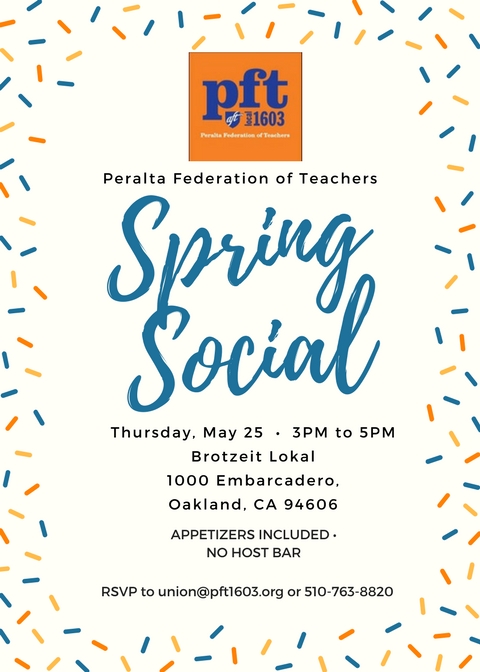 BALLOTS MUST BE RECEIVED ON OR BEFORE
TUESDAY, MAY 16, 2017
BY 4PM
*Contact union@pft1603.org if you did not receive a ballot at your home address
---
BALLOT
Peralta Federation of Teachers
GENERAL ELECTION
EXECUTIVE COUNCIL 2017-2019
Please check only one box for each Council Position listed below:
President
Chriss Foster (English, Merritt)
Jennifer Shanoski (Chemistry, Merritt)
Write in ________________________
Vice-President
Tae-Soon Park (Math, Merritt)
Write-in: _______________________
Secretary
Matthew Goldstein (Humanities, CoA)
Write-in: _______________________
Treasurer
Rick Greenspan (Automotive Technology, Alameda)
Miriam Zamora- Kantor (DSPS, Laney)
Write-in: _______________________
Diversity Chairperson
Kimberly King (Psychology, Laney)
Linda Thompson (Kinesiology, CoA)
Write-in: _______________________
Please check any two boxes for your campus ONLY:
Campus Co-Chairs
Your Campus:_________________
Alameda College Campus Co-Chair
Maurice Jones (English)
Mary Shaughnessy (Counseling)
Write-in: _______________________
Write-in: ­­­­­­­­­­­­­­­­­_______________________
Berkeley College Campus Co-Chair
Joshua Boatright (Library)
Scott Hoshida (English)
Write-in: _______________________
Write-in: ­­­­­­­­­­­­­­­­­_______________________
Laney College Campus Co-Chair
David Jones (Culinary)
Ann McMurdo (Counseling)
Write-in: _______________________
Write-in: ­­­­­­­­­­­­­­­­­_______________________
Merritt College Campus Co-Chair
Hilary Altman (Communications)
Sheila Metcalf-Tobin (Art)
Write-in: _______________________
Write-in: ­­­­­­­­­­­­­­­­­_______________________
Career Technology Education (CTE) Representative
CTE Faculty ONLY, please check one box
Peter Brown (Machine Technology, Laney)
Write-in: ______________________
Part-Time Chairperson
Part-Time Faculty ONLY, please check one box
Bradley Balukjian (Biology, Laney)
Cynthia Mahabir (Sociology, Laney)
Write-in: _______________________
---
BALLOTS MUST BE RECEIVED ON OR BEFORE
TUESDAY, MAY 16, 2017
BY 4PM