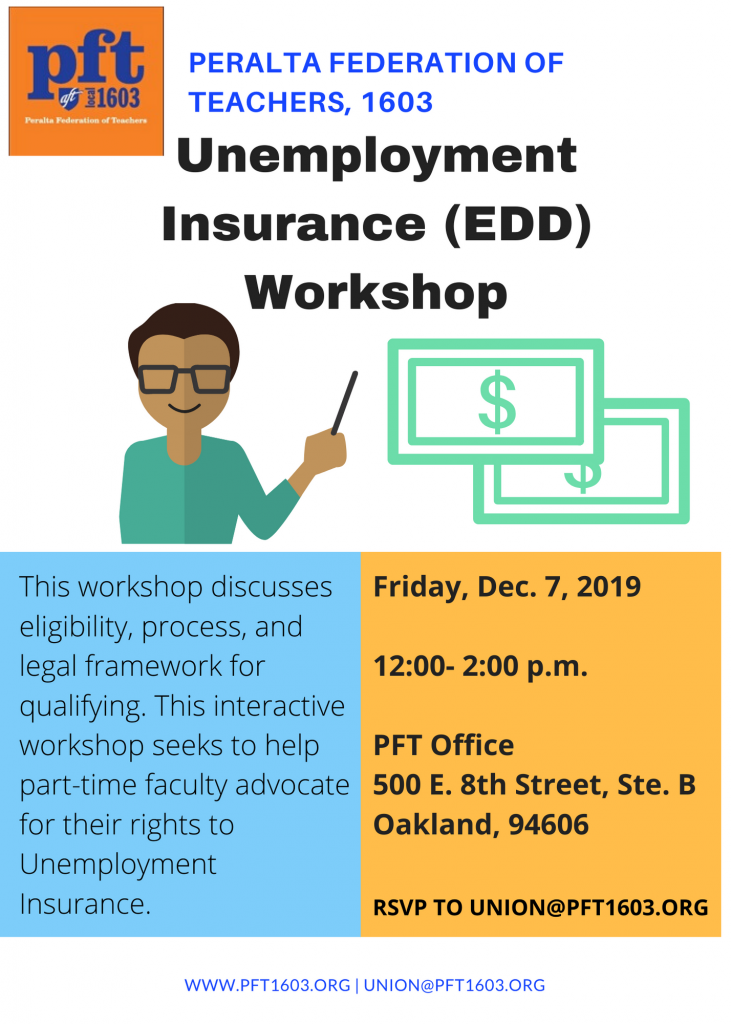 Support PFT by attending the PCCD Board of Trustees Meeting on December 10, 2019. RSVP here
www.pftt1603.org
Facebook: @PFT1603
Instagram: @PFT1603
Twitter: @PFT1603
(Oakland, CA) The Peralta Federation of Teachers is fighting for a fair contract. However, the fight is more that just about wages. At the time of this video's publishing, the union that represents faculty, nurses, counselors, and librarians in the Peralta Community College District is in a labor dispute with management over ~$600K, a tiny fraction of the District's budget. That money would cover the cost of part-time parity which is an effort to pay part-time faculty equal to full-time faculty with the same experience for the same work. In other words, equal pay for equal work. Additionally, PFT is asking for a 3-year contract that includes a Cost of Living Adjustment (COLA) as it is granted by the state of California and doesn't cost the District anything. Yet, the District is refusing to meet these minimal demands.
PFT is committed to improving working conditions for our educators to improve learning conditions for our students.
Video produced by: Ina Adele Ray, Berkeley City College Part-time Faculty and Berkeley City College Union Representative
The day after our board action, come wind down over lunch in community with fellow union members on Wed Oct 23rd 12-2pm. Please join our union mixer and panel discussion with labor activists that will kick-off our Unity Campaign***. Lunch and light refreshments will be served. Pls forward to your colleagues!

WEDNESDAY, October 23rd @ 12-2 pm
Laney College – Faculty Lounge – T450
900 Fallon St., Oakland CA
***What is the Unity Campaign?
The PFT Unity Campaign focuses on the shared interests and combined power that ALL FACULTY gain when we join together to fight for quality education for our students and fair working conditions for ourselves. The goal of the campaign is to unite faculty and increase faculty participation in PFT contract actions and other PFT activities. Too often, part-time and full-time faculty are pitted against each other, when in fact, WE ARE STRONGER WHEN UNITED!
The UNITY Campaign raises up the concerns of PT faculty about their poor working conditions and compensation and points out how FT faculty and students are also impacted by these conditions. An emphasis on the interconnection of full-time tenure line faculty and part-time contingent faculty interests will support and strengthen the PFT. We will hold dialogues, teach-ins, unity hall walks, and mixers to build understanding and strength in our unity.
POINTS OF UNITY
ALL FACULTY – FT, PT, Counselors, Librarians, Nurses, and Coaches – are essential to the student success at the Peralta Colleges.
ALL FACULTY deserve fair compensation for their work
ALL FACULTY deserve fair and safe working conditions, including access to educational resources (e.g., office space, technology, facilities) and professional development to provide quality instruction and other educational services to students.
ALL FACULTY working together is the best way to get fair compensation and working conditions AND to provide high quality education to students